Technical Communicators,
Windows NT and Unix/Linux
Thomas Albert
UC Berkeley Extension Instructor of
Technical Communication
http://www.WORDesign.com
Becky Phung
Computer Resource Specialist
MIS Consultant
The authors presented a version of this presentation to the Silicon Valley Chapter of the Society of Technical Communication on July 22, 1999
Copyright © 1999 Thomas Albert and Becky Phung
All rights reserved
Contact talbert@WORDesign.com to obtain information
What is an Operating System?
An operating system is software that enables
humans to use applications
applications to use hardware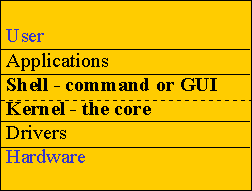 APPLICATIONS: strictly speaking, the shell is an application, but above the shell are applications, such as compilers, text editors/word processors; electronic spreadsheets; and games. (A shell script, too, is an application that uses shell commands to make system calls that the kernel performs.)
KERNEL: schedules processes to enable multi-tasking; manages virtual memory (swapping from hard disk to RAM); manages the file system (enforcing file permissions and security); coordinates device input and output through the device drivers. ([Device drivers "map" specific hardware (such as Brand X mouse, printer, or network card), to the expectations of the operating system, which can "talk to" many types of devices and many brands of each type.]
Technical Communicators
and the OS environment
use online Help
WinHelp/HTML Help for Windows
man pages or WebHelp for Unix/Linux
write online or paper documentation
major market for technical writers because documentation taken for granted for Windows applications
the addition of documentation is a major marketing feature for Linux
Technical Communicators
use the Operating System shell to perform tasks
get help
navigate the file system
create, edit, and share files
print files
monitor the CPU processes
stop print jobs
compress/uncompress files
archive files using ftp
run, edit, or author scripts
Windows NT Strengths
GUI interface; familiar Win95 look
Plug-and-play driver configuration
Reduced Management Cost
Economical maintenance and training
BackOffice/FrontOffice integration
Windows 2000 (Windows NT 5.0)
Active Directory- a network directory service for locating and controlling network resources (computers, accounts,…)
Plug-n-Play - better hardware device management
Scripting - fully functional shell script interface
Terminal Server - light weight Windows terminal

includes multi-user session support in the kernel

Intellimirror Management- IT managers will be able to deploy or update applications to any user or group of users with a few simple steps from a central location & users' data easily replaceable.
Unix/Linux Strengths
Unix, an engineering legacy
AT&T in-house tool of regulated monopoly
licensed to universities
kernel separate from shell
stability: isolated from user blunders
modular (package) architecture
security: no GUI entry to kernel?
Unix Evolution
Proliferation of variants ("implementations" or "flavors")
AT&T System V
IBM AIX and scalability
BSD, TCP/IP, Arpanet, and the Internet
Silicon Graphics and high-end rendering with SGI IRIX
Hewlett Packard and high-end manufacturing with HP-UX
SCO Xenix: first Unix for the PC
Sequent Dynix
NeXT Mach
Pyramid OS/x
Sun and desktop workstations with Solaris (RISC platform)
Linus Thorvald's Minux (minimal Unix for Intel platform)
GNU/Linux, the Free Software Foundation, copyleft, Open Source Initiative, "bazaar vs cathedral": developers express individuality
8/11/99 RedHat, Inc. of Durham, N.C. goes public (with support from Dell and IBM)
Linux Strengths
optimized for i386 (Intel PCs)

dedicated swap partitions
kernel fully isolated from GUI

open source code

reduces risk of virus
offers recognition for individual contributors
generates enthusiasm and cooperative teamwork
allow an organization to fix bugs or customize the OS without having to depend on an external vendor

low cost for independent ISPs (Apache), researchers, developing nations
Linux (Re)Sources
ASL Workstations of Milpitas provides dual boot systems http://www.aslab.com and support [they supply Linus]
Xi Graphics http://www.xig.com provides X servers for Linux/Solaris/BSD
Linux World Expo (August 10-12, 1999), San Jose Convention Center
Silicon Valley Linux User's Group: http://www.svlug.org/
Demonstration of Tasks
Almost all operating systems support a common set of user tasks
Analogy for the "new" environment: if you can read a map, you can work in any city or country
Getting Help
Windows NT
F1, Start>Help, Help menu (WinHelp, HTML Help), paperclip appears
Web site(s)
Unix shell
man command_name (reference only)
WebHelp
Web site(s)
Navigate the File System
Windows NT Explorer (can be a browser with "Back" button)
Unix shell
pwd (present working directory)

ls (list files/directories) -l -a switches

cd .. (change directory up a level)
Share Files
Windows NT Explorer
right-click folder, create "share" w/ options
Unix shell mode of access
chmod -R 777 my_directory

recursively grant read, write, and execute permissions to user, group, and others

chmod -R 750 my_directory

recursively grant full permissions to user, read/execute to group, and none to others
Print Files
Windows NT
print from the application (hidden API call)
Unix shell for line printer
lp my_file or lpd my_file

/etc/printcap is the printer configuration file
Monitor CPU Processes
Windows NT
Ctrl Alt Del > TaskManager
Unix shell to show "process status"
ps -a shows all terminal-related process IDs (PIDs)

top shows the most intensive processes (Linux)
Stop a Print Job
Windows NT
Ctrl Alt Del > TaskManager > End Task
Unix shell to "kill" a process
kill -9 process_id_of_job
Create and Edit Text Files
Windows NT Notepad
Unix vi command and insert modes
vi file_name starts vi

cursor: h left, j down, k up, l right

a append, i insert, x delete character

:wq write and quit; :q! quit and no save
Uncompress Files
Windows NT - use WinZip
Linux tar (tape archive)
tar -xvf tarfile.tar.gz extracts, verbose (print filenames during extraction), files from the named archive, then use gzip (GNU project) to uncompress

tar -cvf to create a new file archive in verbose mode
Summary
An operating systems enables applications by linking users and hardware to software applications
Windows NT leads in ease of use
Unix leads in scalability, reliability, and security
GNU/Linux is open source Unix optimized for the Intel platform
Technical writers perform analogous tasks regardless of the OS
These two environments are converging in power and ease-of-use
Perhaps an even more important than basic operating system literacy are convergence and integration:

convergence between data communications and telecommunications, such as internet telephony (voice-over-IP): http://www.net2phone.com/

integration of multiple applications, protocols and operating system artifacts, in which the technical communicator might be involved with middleware/XML, or scripts (Tcl, Perl, JavaScript)
Copyright © 1999 Thomas Albert and Becky Phung
All rights reserved
Contact talbert@WORDesign.com to obtain information